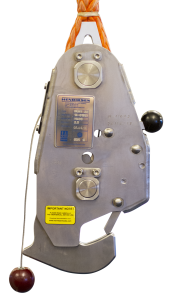 Henriksen Crane Hooks (HCH)
The HCH hooks are off-load crane hooks designed for lifting Fast Rescue Crafts, Man-Over-Board boats, Rigid Inflatable Boats (RIB) and tenders with a total weight of up to 10 000 kg. The HCH hooks are designed for use on small boats for military, offshore and the leisure market.
The Henriksen Crane Hooks differs from all our other hooks by being attached to the crane instead of the boat. A crane hook adds more weight to the crane line then a lifting ring and it is therefore critical to keep the weight of the crane hook at a minimum. All our crane hooks have therefore been designed to be as light as possible, and every HCH Hook (except the smallest HCH 1,5) are all made exclusively out of grade 5 Titanium.